Impact Hub Yerevan is at it again, bringing the community together for another Impact for Breakfast event!
This time the event was held on March 30, 2023, at Ground Zero – Specialty Coffee and Roastery, a cafe in Yerevan that provides a welcoming and enabling environment for personal and professional growth around healthy food, pastry, wine, and high-quality coffee from around the world. In many ways, the mission at Ground Zero reflects those of Impact Hub Yerevan, making it a fitting venue for the event.
The topic of this morning's discussion was "Navigating Financing: Typical Investing vs Impact Investing?"
This event was designed to bring together finance specialists, investors, and other stakeholders from different sectors to engage in a dialogue to establish a solid foundation for impact investment in Armenia. In the previous Impact for Breakfast event we followed a format of having a guest speaker and a Q&A session, but this time around, it was more of an open discussion for all of our participants with no official speakers.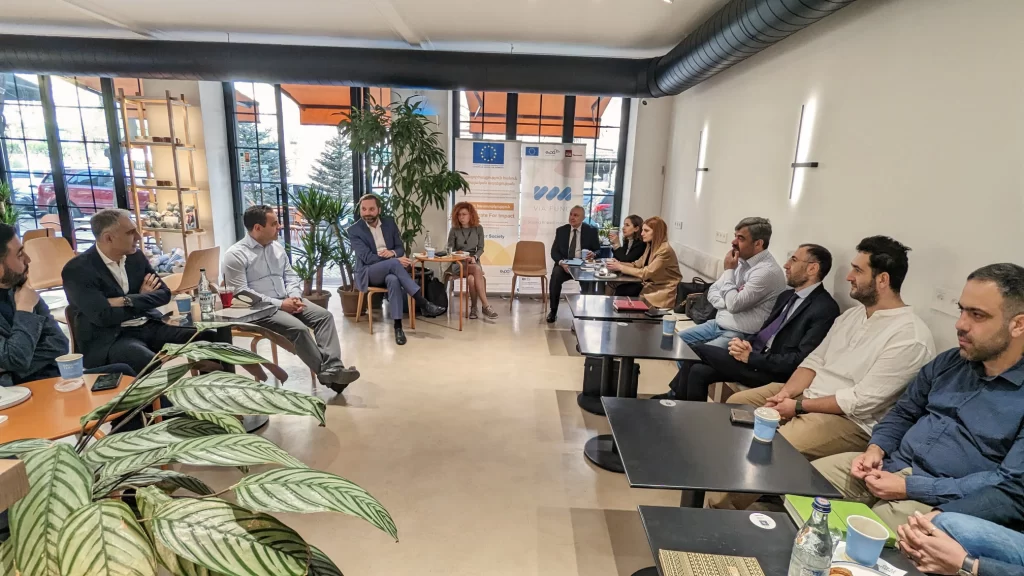 With the helpful moderation of Nazareth Seferian, participants discussed the topics at hand openly and honestly.
The conversation sparked an interesting debate among participants with one side insisting that impact investing fits best in the "charity pocket" while others countered the opinion and suggested that it could lead to business returns as well, not just impact. One pointed out that impact investing is not just about making money, it's about making a positive impact on society and the environment.
"Impact investing is characterized by the principles of intentionality, additionality, and measurability. This means that the investment has the direct intention of causing impact, this impact would not have happened without the impact, and it needs to be clearly measured." – Nazareth Seferian, from EVPA.
Participants discussed how impact investing can be used as a tool to both support social enterprises and boost social and economical development in Armenia.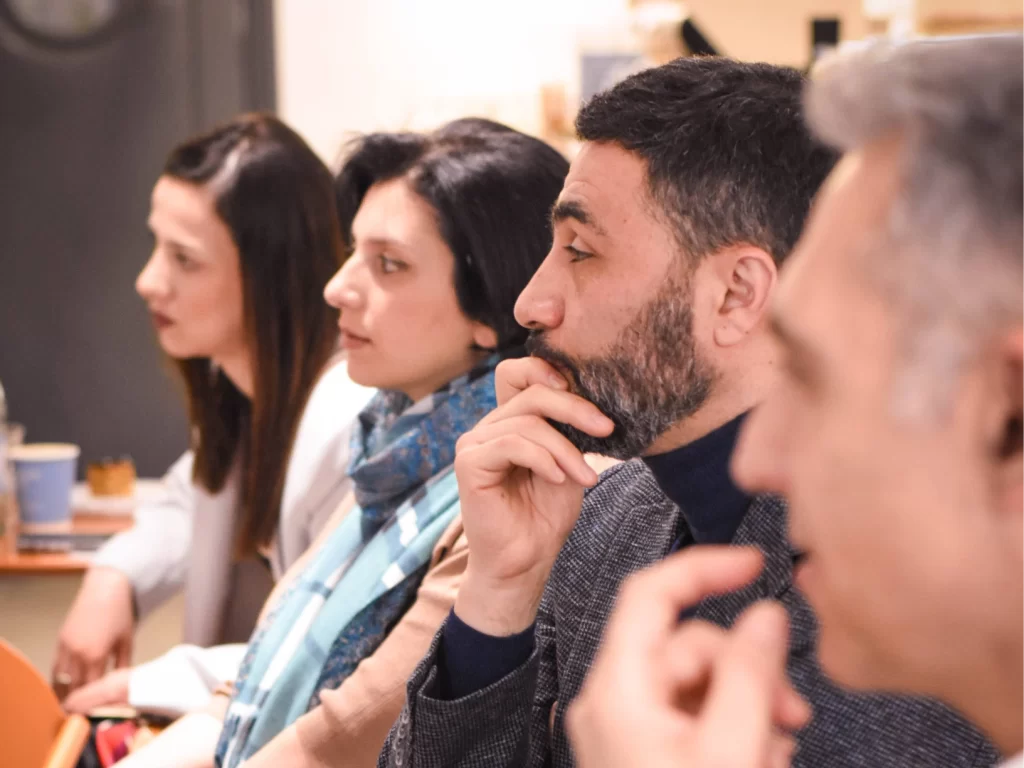 "There is a difference between investing with impact and investing for impact," – Vahagn Voskanyan, Venture Partner at ArmTech Impact Ventures.
In the case of investing with impact, the primary concern could be financial return but ESG principles or other impact is considered as well, and when investing for impact the primary concern is impact, with financial returns at a lower priority.
This sentiment was echoed by others in the group, who emphasized the importance of investing in projects that align with their values and have a positive impact on the world.
It is important to also take further steps to not only provide financial support to these enterprises but also focus more attentively on the process of impact management and measurement. On one hand, the impact is there, but on the other, we don't have a concrete grasp of just how deep it goes in order to raise more awareness and increase the visibility of our efforts.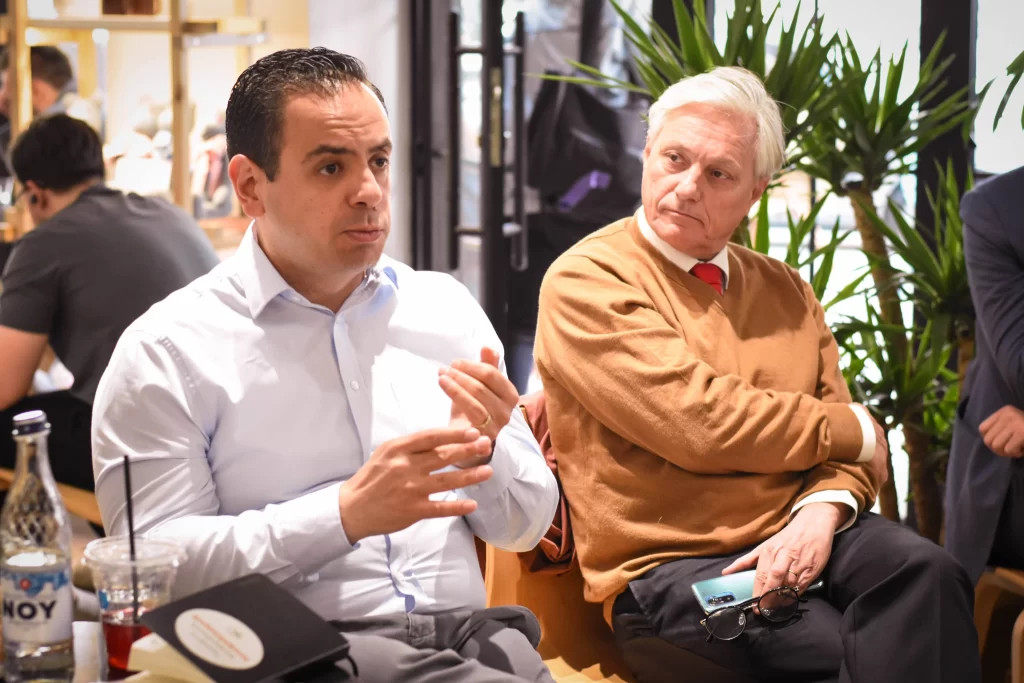 Data-backed impact should be a key factor in the decision-making process of investing.
The need for increased education and training in the realm of impact investing was also a key point of discussion, especially when it comes to educating investors and entrepreneurs on how to measure impact and evaluate the social and environmental impact of their investments.
Similarly, points about the importance of creating a culture of transparency and accountability in the impact investing space were raised. In fact, VIA Fund is focusing on working with social enterprises, which are small businesses producing impact at a grassroots level, with hopes that this culture will flourish.
Thus, one of the main takeaways from the event was the need to raise awareness about impact investing and build a stronger ecosystem around it.
The conversation also touched on the challenges of finding the right investment opportunities and how to balance financial returns with social and environmental impact. One participant highlighted the importance of taking a long-term view and being patient when it comes to impact investing.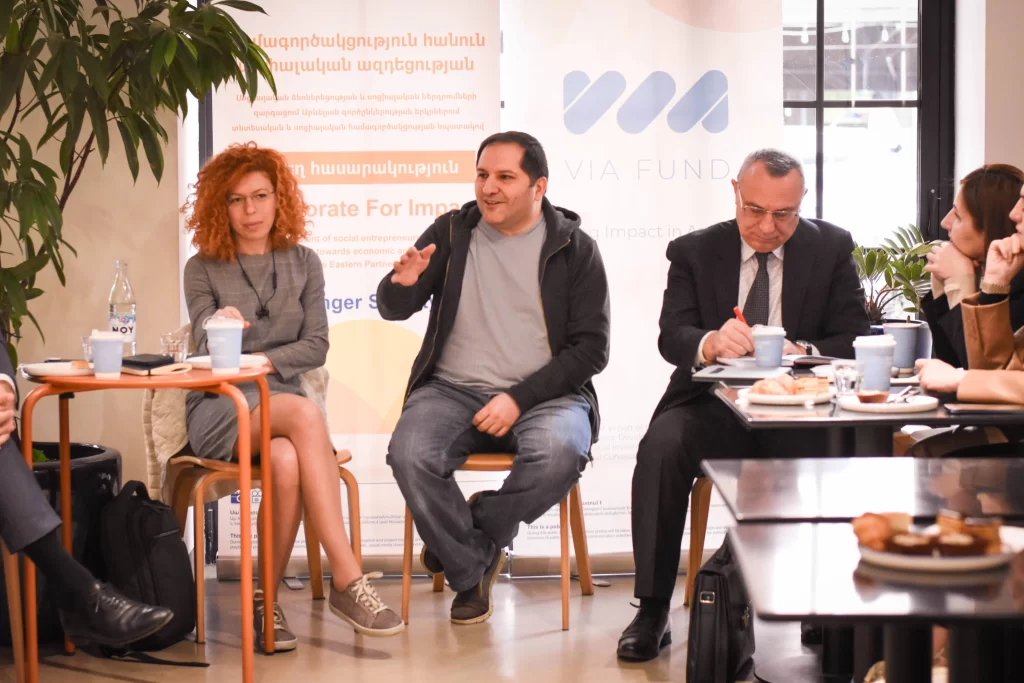 Overall, the event was a success, with participants leaving with a better understanding of impact investing and the role it can play in supporting social enterprises in Armenia.
The Impact for Breakfast Network continues to provide a platform for like-minded individuals to come together and share ideas.
"I have been working in Armenia for 5-6 years and I have never been part of a discussion like this on impact." – Hovik Mazedjian, CEO of Amundi-ACBA.
The Yerevan Chapter of the Impact for Breakfast Network is a great opportunity for anyone who is passionate about impact investing and social entrepreneurship to connect with others who share their goals and visions for the future of Armenia.
By joining the Yerevan Chapter, members will be notified of upcoming events and have the chance to participate in discussions with industry experts. Sign up to join!
The Collaborate for Impact program is financed by the European Union in Armenia and implemented by the EVPA in partnership with Impact Hub Yerevan in Armenia! This publication has been produced with the financial assistance of the European Union. The contents of this publication are the sole responsibility of the Collaborate for Impact project and can under no circumstances be regarded as reflecting the position of the European Union.